The Sol Gamma Wave disaster was by far the largest and most devastating disaster to ever befall Humanity, resulting in the destruction of Earth, the Human homeworld, precipating the Fall of the Earth Federation and resulting in a death toll that can only be estimated at around 78-billion.
History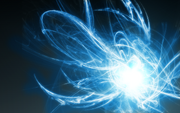 Eruption
Occuring on 8 October 2601, the origin, cause or creator of the gamma radiation wave is unknown but its point of eruption is considered to have occurred somewhere within the orbit of Luna, Earth's sole moon. In the course of 63-minutes it destroyed all organic life in the area. Because of the intensity of the radiation, not even military-grade bunkers or shielding systems of the era could offer any protection.
Due to flucations in the gamma wave front, the exact time of the eruption can not be determined but the last out-system transmission out of the Sol-system was a personal message from Edith Grinder, a confirmed resident of Diplyon, a city on the Jupiter moon of Europa. No mention of the disaster was made during the letter, addressed to an unknown individual only referred to as Ting who resided in the Proxima Centauri-system.
Expansion
Traveling at a vastily impossible speed of one-light year per day, the dynamics of which are still unknown to contemporary science, it covered an area of 2389-square light years over the course of 6.5-years. 
Due to variations in wavefronts, as a result of impacts with stellar objects large enough to disrupt or absorb the energy, some solar systems received varying degrees of exposure. In total the immediate 180-square light years around Sol received near total exposure, while systems between 190 to 800-square light years outward received only 70% exposure, 810 to 1700-square light years outward received 45% exposure and systems between 1710 and the final disapating wavefront at 2389-square light years outward received only 10% exposure.
As defined at the time by Earth Federation records, the Core Colonies were those worlds that lay within 150-light years from Sol, while the much more moderately spaced Outer Colonies were those worlds between 200 and 2000-light years away and between 2000 to 5000-light years away were sparse and lightly populated Frontier.
The resulting wavefront meant the complete destruction of the most economically successful, high populated and stable Core Colonies, devastating but survivable damage done to the Outer Colonies and light, insignifcant damage to the Frontier. 
Below is a list of those worlds that suffered total or near-total destruction as a result of the Sol Gamma Wave:
| Impact Date | System | Major Worlds | Distance (ly) |
| --- | --- | --- | --- |
| 8 October 2601 | Sol | Earth, Mars, Venus, Europa, Titan | N/A |
| 12 October 2601 | Alpha Centauri | New Terra, Elysium, Sheol | 4.40 |
| 13 October 2601 | Barnard's Star | Rhonda | 5.94 |
| 16 October 2601 | Gliese 411 | Columbia | 8.32 |
| 16 October 2601 | Sirius | Axion | 8.61 |
| 18 October 2601 | Epsilon Eridani | Poseidon | 10.5 |
| 19 October 2601 | Procyon | Morgana | 11.4 |
| 19 October 2601 | Tau Ceti | Constantinople | 11.9 |
| 21 October 2601 | Gliese 563.2 A | Anchor | 13.7 |
| 23 October 2601 | Gliese 876 A | Locust | 15.3 |
| 23 October 2601 | HIP 82725 | Dublin | 15.7 |
| 24 October 2601 | Gliese 1005 | Ilyria | 16.2 |
| 24 October 2601 | Keid | Istanbul | 16.2 |
| 24 October 2601 | Gliese 682 | Wen Chang | 16.6 |
| 24 October 2601 | 70 Ophiuchi | Second Dove | 16.6 |
| 24 October 2601 | Altair | New Hardin | 16.7 |
| 26 October 2601 | HIP 21088 | Cadmus | 18.2 |
| 26 October 2601 | Alsafi | Kiowa | 18.8 |
| 27 October 2601 | Gliese 570 A | Mott | 19.0 |
| 27 October 2601 | Gliese 588 | Yardley | 19.3 |
| 27 October 2601 | 36 Ophiuchi | New Echigo | 19.3 |
| 27 October 2601 | Eta Cassiopeiae | Minerva | 19.4 |
| 27 October 2601 | 82 Eridani | Valentine | 19.7 |
| 27 October 2601 | Delta Pavonis | Daisy | 19.9 |
| 28 October 2601 | Gliese 581 | Tallinn | 20.3 |
| 29 October 2601 | Xi Boötis | Texas | 21.9 |
| 1 November 2601 | Beta Hydri | Bryd | 24.3 |
| 1 November 2601 | 107 Piscium | New Denver | 24.6 |
| 1 November 2601 | Mu Cassiopeiae | New Sarkar | 24.6 |
| 2 November 2601 | Vega | Lazarus | 25.0 |
| 2 November 2601 | Fomalhaut | Highland | 25.1 |
| 3 November 2601 | Chi Draconis | Hatano | 26.3 |
| 3 November 2601 | Tabit | Seoul | 26.3 |
| 3 November 2601 | p Eridani | New Rodomonte | 26.6 |
| 4 November 2601 | Mu Herculis | August, Augustine | 27.1 |
| 4 November 2601 | Chara | Warsaw | 27.5 |
| 4 November 2601 | 61 Virginis | New Jerusalem | 27.9 |
| 5 November 2601 | Zeta Tucanae | Naypidaw | 28.0 |
| 5 November 2601 | Chi-1 Orionis | Roskilde | 28.2 |
| 5 November 2601 | Gliese 666 A | Kathmandu | 28.7 |
| 6 November 2601 | Gamma Leporis | Dynamic | 29.1 |
| 6 November 2601 | Rana | Ceylon | 29.5 |
| 6 November 2601 | Gliese 451 A | Willemstad | 29.6 |
| 6 November 2601 | Beta Comae Berenices | Thimphu | 29.8 |
| 6 November 2601 | Kappa Ceti | Herat | 29.8 |
| 7 November 2601 | Gliese 442 A | Nuuk | 30.1 |
| 7 November 2601 | Gamma Pavonis | Novi Sad | 30.2 |
| 8 November 2601 | Gliese 432 A | Bishkek | 31.2 |
| 8 November 2601 | 61 Ursae Majoris | Ciflik | 31.3 |
| 8 November 2601 | 12 Ophiuchi | Dayton | 31.8 |
| 9 November 2601 | Gliese 75 | Anci | 33 |
| 9 November 2601 | Alpha Mensae | Kolonia | 33 |
| 10 November 2601 | Pollux | Dublin | 34 |
| 10 November 2601 | Iota Persei | Faroe | 34 |
| 11 November 2601 | Zeta Herculis | Tower | 35 |
| 11 November 2601 | Gliese 86 | Magdalen | 35 |
| 11 November 2601 | Delta Trianguli | Constega | 35 |
| 12 November 2601 | Zavijah | Falkland | 36 |
| 12 November 2601 | Denebola | New Phoenix | 36 |
| 12 November 2601 | 54 Piscium | Madeira | 36 |
| 12 November 2601 | Theta Persei | Mon Athos | 36 |
| 13 November 2601 | Gamma Serpentis | Acheron | 37 |
| 13 November 2601 | Arcturus | Hydra | 37 |
| 13 November 2601 | Eta Boötis | Toulmin | 37 |
| 13 November 2601 | 11 Leonis Minoris | Antilles | 37 |
| 14 November 2601 | Gliese 567 | Aegean | 38 |
| 14 November 2601 | Zeta Doradus | Comoro | 38 |
| 14 November 2601 | Porrima | Maluku | 38 |
| 14 November 2601 | Iota Pegasi | Sakhalin | 38 |
| 15 November 2601 | Deneb Algedi | Volta Redonda | 39 |
| 15 November 2601 | Zeta-1 Reticuli | Attawandaron | 39 |
| 15 November 2601 | Zeta-2 Reticuli | Rattlesnake | 39 |
| 16 November 2601 | Lambda Serpentis | Fitzgerald | 40 |
| 16 November 2601 | Zeta Trianguli Australis | Koror | 40 |
| 16 November 2601 | 85 Pegasi | Langkawi | 40 |
| 16 November 2601 | Gliese 309 | Tampere | 40 |
| 16 November 2601 | Gliese 211 | Tambora | 40 |
| 16 November 2601 | Rho-1 Cancri | New Thatcher | 40 |
| 16 November 2601 | Beta Trianguli Australis | Birkirkara | 40 |
| 18 November 2601 | Gliese 302 | Ponce | 41 |
| 18 November 2601 | Lambda Aurigae | Barony | 41 |
| 18 November 2601 | Gliese 95 | Aurora Prime | 41 |
| 19 November 2601 | Gliese 67 | Briar | 42 |
| 19 November 2601 | 44 Boötis | Radnofsky | 42 |
| 19 November 2601 | 36 Ursae Majoris | Macoris | 42 |
| 19 November 2601 | Gliese 620.1 A | King | 42 |
| 19 November 2601 | Gliese 675 | Scarborough | 42 |
| 20 November 2601 | Gliese 722 | Oxford | 43 |
| 20 November 2601 | 58 Eridani | Bokassa | 43 |
| 21 November 2601 | Theta Ursae Majoris | Victoria | 44 |
| 21 November 2601 | Upsilon Andromedae | McAuliffe | 44 |
| 22 November 2601 | Gliese 5 | Boleyn | 45 |
| 22 November 2601 | Alshain | Sputnik | 45 |
| 22 November 2601 | Iota Piscium | Cresson | 45 |
| 22 November 2601 | Gliese 853 A | St. Quentin | 45 |
| 22 November 2601 | 18 Scorpii | Witchita | 45 |
| 23 November 2601 | 10 Tauri | Truman | 46 |
| 23 November 2601 | 47 Ursae Majoris | New Avalon | 46 |
| 23 November 2601 | 26 Draconis | Langhorn | 46 |
| 23 November 2601 | Gliese 532 | Lincoln | 46 |
| 23 November 2601 | Gliese 3846 | Soweto | 46 |
| 23 November 2601 | Tau-1 Eridani | Valladolid Minor | 46 |
| 23 November 2601 | Gliese 282 A | Zanadu | 46 |
| 23 November 2601 | Gliese 3148 A | Albion | 46 |
| 23 November 2601 | Alpha Fornacis | Naypidaw | 46 |
| 24 November 2601 | HD 150689 | New Elijah | 47 |
| 24 November 2601 | Gliese 726 | Markgraf | 47 |
| 24 November 2601 | Eta Cephei | Sutherland | 47 |
| 24 November 2601 | Gliese 529 | Stableford | 47 |
| 24 November 2601 | Rasalhague | Rosebud | 47 |
| 24 November 2601 | 72 Herculis | Hensell | 47 |
| 24 November 2601 | Pi-1 Ursae Majoris | Arnel | 47 |
| 24 November 2601 | Gliese 796 | Vulcan | 47 |
| 24 November 2601 | 111 Tauri | Olympia | 47 |
| 24 November 2601 | Talitha | Keller | 47 |
| 24 November 2601 | Gliese 611 A | Sunderland | 47 |
| 24 November 2601 | Theta Boötis | Bova | 47 |
| 25 November 2601 | Psi Serpentis | Focal | 48 |
| 25 November 2601 | Psi Capricorni | Valladolid Minor | 48 |
| 25 November 2601 | Nu-2 Lupi | New Navajo | 48 |
| 25 November 2601 | HR 7162 | Niven | 48 |
| 26 November 2601 | Eta Leporis | Hubris | 49 |
| 26 November 2601 | Wolf 1014 | Yokohama | 49 |
| 26 November 2601 | Gliese 264.1 B | Robin, Cardinal | 49 |
| 26 November 2601 | HD 36705 | Carter | 49 |
| 26 November 2601 | Alpha Corvi | Cambridge | 49 |
| 26 November 2601 | Gliese 364.0 | Woden | 49 |
| 26 November 2601 | Alderamin | Hawke | 49 |
| 26 November 2601 | 20 Leonis Minoris | Wimer | 49 |
| 26 November 2601 | Nu Phoenicis | Geneva | 49 |
| 26 November 2601 | Gliese 1021 | Iron Hammer | 49 |
| 27 November 2601 | Gliese 1085 | Bathe | 50 |
| 27 November 2601 | 171 Puppis | Rome | 50 |
| 27 November 2601 | 19 Draconis | New Athens | 50 |
| 27 November 2601 | Gliese 227 | Sophia | 50 |
| 27 November 2601 | Tauri | Takei | 50 |
| 27 November 2601 | Gliese 3781 A | Calcutta | 50 |
| 28 November 2601 | Mu Arae | Ulan Bator | 51 |
| 15 December 2601 | Aldebaran | Tascheter | 68 |